Loblolly on-staff consultants have key skills that are common for many projects. But we understand that you may need additional specialized skills. By utilizing both our on-staff consultants and our wide network of recruiting partners, we can help you get the best team member for your specific request in the most cost-effective way.
We also have contracts already in place for all public-sector (e.g., State, City, County, University, etc.) agencies in Texas to speed up the procurement process.
Here are some common scenarios for staff requests:
General: common project roles like business analysts, project managers, etc.
Specialty / Scarcity: specialized skills that are often difficult to find
Volume: full team ramp ups where you need multiple roles staffed quickly
Whatever your staffing needs, we can help!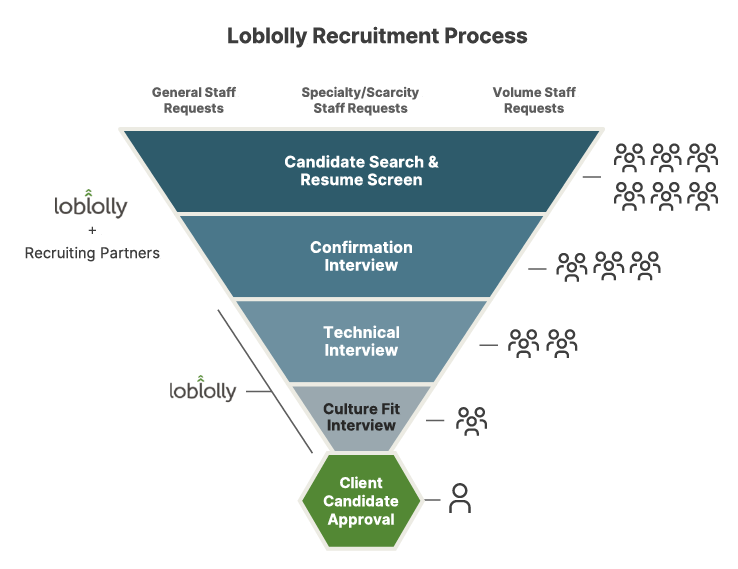 How Does it Work?
The Loblolly unique and proprietary recruitment process begins with a wide search for candidates both on-staff and using our wide network of sourcing partners.
We consider many factors, including:
Skills
Industry
Culture Fit
Previous Experience
Using our proven interview process, we narrow the pool of candidates to identify the ones who are the best fit for your particular project and needs. The Loblolly delivery management team handles the final vetting and selection before submitting candidates to you.
The process is summarized as follows:
Optimal Fit Verified
Loblolly Team Leads and the Loblolly Delivery Management team coordinate for this 2-step process.
Loblolly includes team members closest to the role and the project in the interview and selection process. These team members conduct phone and face to face interviews as appropriate to identify candidates with the required technical and team skills to successfully complete the work.
Loblolly delivery management team completes final face to face interview of selected candidate(s) to verify cultural fit, temperament, soft skills and confirm shared values required by clients and by Loblolly's service excellence standards.
Subcontractors/Teaming with Other Firms
Loblolly can tap into a variety of relationships we have with IT recruiting and staffing firms and boutique consulting firms in the Austin area, and beyond. We have built successful teaming partnerships with local and national firms with specific expertise to tackle even your most difficult challenges.
Cultural Fit
Your success matters to us. Loblolly recruits and screens candidates with care. Most companies say they find candidates who adhere to best practices. We focus on finding candidates who are not only concerned with individual effectiveness, but also solving your problems and making you successful.